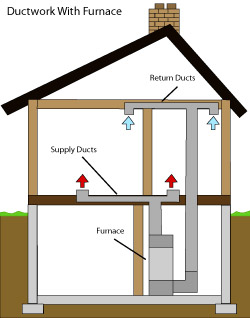 Many homeowners do not realize the importance of the placement of their heating and cooling ducts. We often see homes with supply ducts to every room or almost every room in a home, but only one return duct. This is perfectly fine, as long as you always keep all the doors open. As soon as you close a door where air is supplied to, but no air is returned to the return duct, you create rooms with negative and positive pressures.
Positive Pressure: No Return Duct
Positive pressure is created in a room where supply air is entering, but no return air is taken out. This causes the air being supplied to be pushed out of the room through the windows, doors, ceilings, etc.
Negative Pressure: No Supply Duct
Negative pressure is created in the room where air is being taken out via the return duct, but not enough supply air is being distributed. In negative pressure rooms, air from the outside will now be brought into the house to fulfill the needs of the return duct. As we can see, your home is now leaking the conditioned air you pay for, and bringing in outside air (warm or cold) into your home, making it more uncomfortable.
Dr. Energy Saver Solutions for Comfortable Living
Dr. Energy Saver is able to solve this problem by creating jumper ducts. This allows for each room to have its own vent that will connect to the return air duct, evening out the pressure in your home, and making it more comfortable. It will also save you from losing energy, and bringing unwanted outside air into your home.
If you feel that you have issues with your air conditioning ducts, contact Dr. Energy Saver today to solve your problems!