New Rebate Programs for Maryland Residents!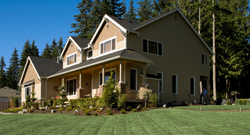 Dr. Energy Saver Delaware has always been dedicated to helping homeowners save money on their energy costs through participation in rebate programs. The newest rebate programs now offer savings for customers of Delmarva Power and customers of Berlin Municipal Electric Plant, Easton Utilities Commission, Choptank Electric Cooperative or A&N Electric Cooperative. The rebate programs include a multitude of benefits but are particularly significant because they provide both immediate and longer-term energy cost savings. Read on to see how the programs work.
Contact us today to learn more about the ways you can save on energy upgrades and services in your area. We are the fully trained and specialized expert servicing throughout Delaware and Eastern Shore Maryland!
Energy Assessment
First, one of our professional home energy evaluators, otherwise known as a "doctor," will visit your home to perform a Home Energy Assessment, also called a home energy audit, to evaluate your home's energy needs and determine which areas would benefit from upgrades. Typically valued at $400, this audit is completed at the reduced cost of $100.
Immediate Upgrades for Delmarva Power Customers
While on this initial visit, our doctor will replace your old bulbs with 12 CFLs, install up to two low-flow showerheads and up to four faucet aerators; he will also install insulation for pipes and your water heater tank. All at no additional charge to you! The cost savings you'll see in your energy bills will be immediate!
Personalized Recommendations
Third, the contractor will recommend measures and rebate items that will improve your home's energy efficiency. The items included in the program are home insulation, air sealing, duct repair, kneewall insulation, rim joist insulation, crawlspace encapsulation and energy efficient replacement windows.
Rebate Savings
Fourth, your rebate is equal to 50% of the costs up to a $4250 maximum on the specified installed items. For non-Delmarva Power customers, we offer the Be SMART Home Energy Efficiency Rebate Program.
Made possible by a grant from the U.S. Department of Energy, the Be SMART Home Rebate Program offers incentives and financing to help Maryland homeowners offset the cost of upgrading their heating and cooling systems, appliances and home envelope; improving the energy efficiency of their homes and saving money on utilities.
The program offers two plans for home energy up-grading loans; Be SMART Home ENERGY STAR® and Be SMART Home Complete. It also allows for up to $15,000 in funding for qualifying homeowners.
The Be SMART rebate program is available to Maryland homeowners with a verifiable income, a credit score of 640 or higher, a debt-to-income ratio of 50%, and who subscribe to the following utility providers:
Berlin Municipal Electric Plant
Easton Utilities Commission
Company
A&N Electric Cooperative
Choptank Electric Cooperative
Delmarva Power
In addition to the number of reductions customers can receive, all Maryland customers can also benefit from additional instant rebates. Customers can receive rebates on a number of services including a home energy audit, air sealing, insulation, and heating and cooling. Rebate values vary, but don't hesitate to ask us!
To be eligible to participate in these programs, homeowners must:
Be a Delmarva Power customer with an active account in Maryland.
Be a customer of Berlin Municipal Electric Plant, Easton Utilities Commission, Choptank Electric Cooperative or A&N Electric Cooperative with an active account in Maryland to use the Be SMART rebate program.
Be a tenant or homeowner in a single-family home, town home, row home, or dwelling with one to four units that are primary residences or vacation home.
Select an approved participating contractor to implement the program.
Contact Us Today!
Dr. Energy Saver Delaware is proud to be the contractor in your area to offer these rebate programs. And you can be assured of a professional experience when working with us; our doctors are specially trained and certified to pinpoint energy inefficiencies, to offer the best solutions and to implement those solutions to your satisfaction. Contact us today to learn more about these rebate programs and to schedule your home energy audit in Wilmington, Easton, St Michaels, Cambridge, Salisbury Chestertown, Stevensville, Chester, Berlin, Ocean Pines, Pocomoke City, Kennedyville, and throughout other areas in Worcester, Wicomico, Talbot, Somerset, Queen Annes, Kent, Dorchester, and Caroline Counties in Maryland!
Looking for a price? Get a no cost, no obligation free estimate.